UPDATED:  SUNDAY – AUGUST 19, 2018
SORRY THIS IS TAKING SO LONG, BUT FALINE WILL BE AVAILABLE FOR ADOPTION SOON….
We just want to make sure "FALINE" is feeling all better! And now that her daughters (JuJu and Ruby) have been adopted and with their new family, we want Faline to adjust her life without them,  Yes.  Poodles are smart and yet, they do have emotions like you and me.
Faline is a sweet and gentle 46 pound, red, AKC Standard Poodle who was born February 12, 2011.  A few days before the Minnesota breeder surrendered Faline to us, she was attacked by various larger dogs at the kennel and suffered multiple puncture wounds.
Once surrendered to us, we immediately got Faline to our Vet where she was thoroughly examined.  Fortunately, there were no broken bones.  She was shaved entirely naked to help the puncture wounds and her ripped ears heal.  Pain medication, antibiotics and lots of rest were prescribed.  Yes, her beautiful hair will grow back.
As pictured, when Faline arrived, we could see that she had recently weaned her puppies, was very unhappy and in pain. But Faline knew that she had come to a safe and loving environment.  She has healed amazingly quickly and is now spending ALL of her time out of her crate, in the sun shine of life.  So we are now seeing the beautiful personality and disposition of this wonderful, smart and loving Poodle girl come out as she begins to live her new life in a home.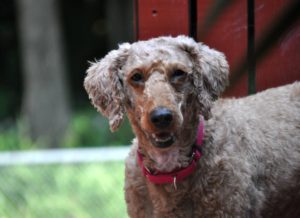 Faline really loves to be the center of your attention.  She will rub against me (like a cat) to get my attention so I will pet and love on her.  Mike and I greatly enjoy being with this loving and gentle girl.  Perfect?  Yes!
You must have a fenced yard, past Standard Poodle experience and NO cats.  We do NOT ship our Poodles.  Faline would be best as an ONLY dog with a family who will treat her as the queen she is meant to be.  Did you know that "Faline" (pronounced fay lean) is the name of Bambi's girl friend?
Wait… Is that a smile on her face?
---
---
NOTICE!  THIS IS NOT A RESCUE POODLE, BUT A STANDARD POODLE WHO IS FOR SALE FROM MY HANDLER AND FRIEND….
"Summer" is a GORGEOUS, white, AKC top quality Standard Poodle with excellent lines who did not do well in the show circuit.  So it was decided that she would be a good pet for the right family.
And as you can see, this is a most beautiful Standard girl who is very happy, silly and fun loving.  You will certainly get lots of attention when you walk or run with this girl!
Summer just loves attention from people, gets along with other dogs and enjoys children.  Absolutely NO CATS!
Summer just turned 1 year old, so she is very active, outgoing and loves to run.  She is in need of an active family who is willing to work with her to learn obedience.  She would also be a great candidate for anyone wanting an "Agility" Poodle.
Her adoption fee is $2,000.00 and you will be required to sign a spay contact.
Please contact Teri at 763-295-0627 or e-mail her at swag04@tds.net  for more information.
---
---
MINNESOTA BASSET HOUND RESCUE HAS ASKED US TO POST THIS INFORMATION ABOUT THEIR "LAYLA"….
Layla is a very sweet gentle Basset Hound Poodle mix.  We estimate her to be around 9 years old, is 13″ tall and she weighs approximately 34 lbs.
She gets along great with the six other hounds at her foster home.   Layla likes to "tell" the deer, turkeys and squirrels outside in the backyard that she's watching them.
This cute girl tends to be a very mellow, easy dog to have around.   She will be sure to greet you with a wagging tail when you get home.
Layla would prefer a home with very few stairs as she does have some issues with her back legs being a bit stiff.  She takes a glucosamine supplement for her joints and allergy medications only for seasonal allergies.
Since she inherited a poodle coat, regular haircuts will be important for her.   She has a hard time with hard food and treats so softened food and treats would be her preference.  If you'd like a sweet mellow lady as a companion Layla is your gal!  (NOTE FROM GAIL:  You can also soak a hard kibble in water or a sodium free broth to soften it).
For more information about Layla and schedule a meeting please visit www.mnbassetrescue.com and fill out our adoption application.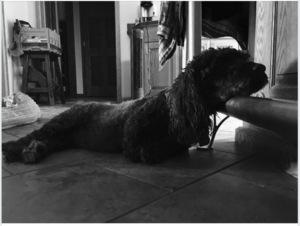 Thank you!
Minnesota Basset Rescue
www.mnbassetrescue.com
PO Box #68005, 1600 18th Ave NE
Minneapolis, MN 55418
612-568-8350
---
---
ADOPTION PENDING ON SEYMOUR….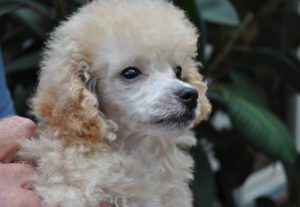 "SEYMOUR" is a tiny 2 pound 4 ounces, apricot, Toy Poodle puppy (born May 18, 2018) who is blind.  Before contacting us to help, the Minnesota breeder had sadly learned that the puppy is completely blind in one of his eyes and the other eye is questionable.
We have met with our Vet, Dr Kim and learned that Seymour is completely blind in his right eye.  There is NO lens, iris or pupil.  Just a black sort of round marble for his eye; thus there is no sight and no hope for that eye.  Our Vet also saw that there are no cataracts to be fixed in either eye.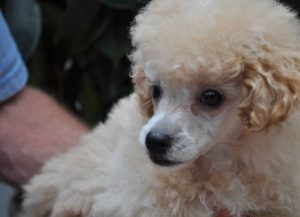 Seymour's left eye has a lens, iris and pupil, but only an eye specialist (ophthalmologist) can tell us how much (if any) sight is there.  Can he see shadows?  Will this eye improve as he becomes older?  We are not sure.  At this time, we have to accept that the puppy is blind and MAY OR MAY NOT eventually have limited sight with or without a surgery.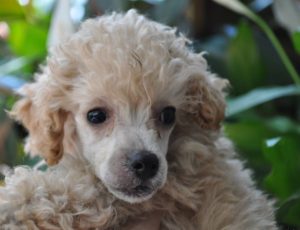 We have set up an appointment with an ophthalmologists, but sadly the earliest Seymour can be seen is September 4th.  We tried other ophthalmologists in Minnesota, including the University of Minnesota (which no longer has any ophthalmologists on staff), but they have no appointments available until November.
So at this time, Seymour is available for adoption.  Obviously this is a "special needs", little, cute puppy boy who is going to need a family willing to accept, love and work with him without spoiling him!  Seymour is an active little puppy who loves to play.  He believes himself to be a normal puppy and doesn't know or understand his limitations as his world of darkness is the only life he has known.  As an adult, he will only weigh around 4 pounds.
As you can see in this video, he loves to play with his best friend, Lamb Chop!
And outside where temperatures have been in the 90's, Seymour enjoys playing in the sprinkler…
There is a lot of good information in books and available on the internet about dealing with blind dogs that we will share with his new family.  Blind dogs do OK by themselves, yet we have read, have been told and can see that it would be best that Seymour have another friendly little dog around that is most willing to play with him and show him this great world; a "seeing eye dog" for Seymour!
We also have a volunteer who has 2 blind Poodles and is willing to share information and "insight" with details related to lack of vision, mobility, commands, and training a blind puppy.  Thank you, Robyn!
Keeping a blind puppy on a routine in the same type of environment helps establish his confidence, social skills and house training.   You will need to understand that when Seymour first arrived here, he screamed, cried and had a major melt down for a VERY LONG time.  (Yes, we all lost sleep).  But understandably, this little puppy was taken away from his litter mates, his normal smells and sounds then placed into a new situation.
Well, finally Lamb Chop came to the rescue (video) and the two have been good friends.  Since then we all have enjoyed sleeping through the night!
Seymour has been Vet checked healthy and his shots are up to date.  His adoption fee will be determined by ONLY the Vet expenses incurred.  Such as: his visit to our Vet, the ophthalmologist appointment in September, his neuter (at a later date),  his microchip and our MN state sales tax.  INCLUDED is a new exercise pen, a wire crate (your choice on size), a small kennel, a new puppy bed, puppy food, treats, a new blanket, various toys and his Lamb Chop; these items have all been donated.  His AKC papers will not be given.
IF we learn that there is a surgery to help Seymour "see more", Picket Fence Poodle Rescue will do all it can to solicit and obtain the funds to pay for that surgery, so you will not have to pay for it.
You will need to bring Seymour and meet us at his ophthalmologists appointment in September so together, we can learn more about his blindness.  At 6 months (or older) Seymour needs to come to our Vet where he will be neutered and micro chipped.  Absolutely, NO children or large dogs.
Adopting a blind puppy is not going to be easy, but here are 10 REASONS BLIND DOGS RULE!  Yes, the number one reason why blind dogs rule is because blind dogs truly see with their hearts!
---
---
---
CLICK ON THE FOUR BELOW LOGO'S TO SEE OTHER POODLES
AVAILABLE FOR ADOPTION AT THESE SITES:

We are a member of The Twin Cities Poodle Club
where you can find quality Poodles and Breeders: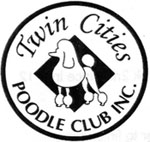 We are also proud to be recognized by the
National Poodle Club of America: