UPDATED:  WEDNESDAY – OCTOBER 16, 2019
STANDARD POODLE PUPPY BOY whom we call "ARCHIE" along with your suggestions of: "Blackie", "Sammy", "Bobby", "Sinbad", "Hunter", "Coal", "Cooper", "Blackie", "Marco", "Lenny", and "Prince" is now available for adoption!
This past year, we have been helping a Standard Poodle breeder in southern Minnesota find good and loving homes for her Poodles as she is no longer breeding or selling Standard Poodles.  This black male puppy will be the final Standard Poodle puppy we will receive.  Mike and I delivered her remaining 3 puppies to another reputable Poodle Rescue group located in southern USA that is also affiliated with our National Poodle Club of America Rescue.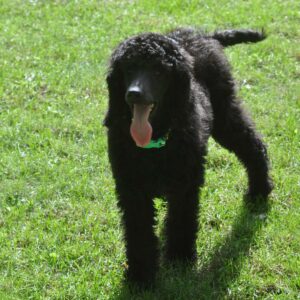 "Archie" was born July 3rd, 2019 and weighs a healthy 20 pounds.  While his parents were 45 and 65 pounds, my groomer and handler feel that he will be about 30 to 35 pounds when full grown.  His AKC papers will not be available with the adoption.  We are not familiar with Archie's pedigree, but both parents had their hips x-rayed and OFA approved.
This is a soft, sweet, gentle, sensitive and loving Standard Poodle who needs socialization while being exposed to people, places and things.  I will not hide the fact that he needs work while learning about living life in a home with a family!   Example:  he can still be a little hard to catch, doesn't come when called and can be unsure of what to do and how to do it.
We know and have experienced great success with these pups in the past as they are very smart Standard Poodles AND food motivated!
In the short time Archie has been with us, he has learned to stay, walk on a leash, go up and down steps and enjoys being with all our Poodles.  He is also learning how to play with the dog toys, follow me around the house and on our "puppy routine", he has kept his kennel and our home clean; house trained!
Archie also just loves attention!  While he doesn't fit entirely into our laps (like a Toy Poodle can), he so enjoys sitting mostly in our lap while we give him hugs, love and attention.
At his Vet appointment, he was Vet checked healthy, strong and sturdy.  However, our Vet had found both of his ears were infected, so they were flushed and an Oto-pack was inserted.  His ears will be just fine!  All of his shots (including Rabies) are up to date, he has been wormed, Home Again micro-chipped and registered.
Poodles do love water. So at our groomers, Archie greatly enjoyed his bath and was a good boy while standing nicely as he was being scissored into a puppy trim and having his nails clipped.
PLEASE NOTE:
*A FENCED YARD WILL BE REQUIRED as this boy loves to run and is just learning to "come"!
*Archie really enjoys other dogs, but PLEASE:  NO little dogs, NO aggressive or assertive dogs and NO young children (he is very afraid of them).
*Preference will be given to active families with past Standard Poodle experience who can train and socialize with this smart puppy boy.
Yes. This is a very rare opportunity for the right family as we all know Standard Poodle puppies are hard to find.  With the introduction of Doodles, sadly the Standard Poodle breed is slowly being eliminated and becoming extinct.  Why Doodle when you can Poodle?
As with all the other Standard Poodle puppies we have adopted, Archie's adoption fee is $800.00 which includes our $55.00 Minnesota state sales tax, his puppy wellness Vet check, shots, worming, microchip and neuter.
YOU WILL BE REQUIRED TO BRING ARCHIE TO OUR VET WHEN HE IS OVER 6 MONTHS OF AGE AND BEFORE 1 YEAR FOR OUR VET TO NEUTER HIM.  OR you can have him neutered at your Vet and we will offer a $100.00 rebate for you to keep or donate to Picket Fence Poodle Rescue.
Also included is his leash, collar, a very large bag of quality puppy dog food, treats, toys, one month supply of NuVet Plus Canine Vitamins, a new blanket, a wire kennel, a soft doggie bed, a book "Puppies for Dummies" along with lots of good information to help your adoption move forward on the right paw!
---
---

THESE TWO TINY TOY POODLES will be available for adoption by the end of October.

They both came from the same owner who can no longer care for them.  While they both look very similar,  we are unsure if they are sisters.
They are about 6 years old.  The little black girl is a tiny 2.5 pounds and the silver girl is 3.8 pounds.
Both girls need to be spayed and will require extensive dental work.   The silver girl was tested positive for Lymes and Anaplasmosis.  She is being treated with Doxycycline and will be just fine!
More information will be posted soon.
Please, we are NOT ACCEPTING ANY APPLICATIONS FOR THESE LITTLE GIRLS UNTIL THEY ARE AVAILABLE FOR ADOPTION.  Thank you for your patience!
---
---
IMPORTANT NOTICE!!
Since the sudden and unexpected death of Susan Johnson of "Sues Poos", Picket Fence Poodle Rescue has been working with her husband Dale and family.  Sue had made it clear that if anything should happen to her, that Dale contact us…. and he did.
We then immediately contacted our National Poodle Club of America Rescue as we knew this was going to be a very sad and difficult situation that would require a lot of help and support from other qualified Poodle Rescue groups.
After Susan's funeral, my daughter Theresa and I met with Dale to take a complete inventory of the situation.  Dale and his family had decided that taking care of the 50+ adult dogs, puppies and pregnant females while dealing with Sue's death was too difficult for them to handle.  Sues Poos were then surrendered to Picket Fence Poodle Rescue.
Because we limit the number of Poodles we can accept, a professional transportation service was arranged and paid for by our National PCA Rescue.  Picket Fence Poodle Rescue paid the Staples Vet Clinic go to Dales home, provide the needed rabies vaccinations with certificates and health certificates for all of the dogs.  Thank you, Dr Kim Harff!
On Tuesday, October 15th Sue's Poos were moved to a PCA Eastern Poodle Rescue group where they will receive all their expensive and extensive Vet work (spay/neutering, worming, shots, dental, etc.) before they are available for adopt to qualified families.
This has been a difficult time for Dale, his family and me.  I've known Sue for 10 years and perhaps you will remember some of her dogs (as pictured) who were surrendered to us from Sue.
A special thank you to our "IT" children (Michael, Heather and especially Theresa) who helped Dale's family obtain needed computer information,  then close down Sues Facebook page and are in the process of closing down her web site.  This will help Dale who now deals with the loss of his wife.
Pictured below is "Lilly" who is pregnant with 5 Poodle puppies and due any day.  Also is the Maltipoo "Skittles"  who is one of Sue's grandson's favorite dogs.  These two are with us and will be available for adoption at a later date.  Thank you for your patience and understanding.
---
---
---
---
CLICK ON THE FOUR LOGOS BELOW TO SEE OTHER POODLES
AVAILABLE FOR ADOPTION AT THESE SITES:

We are a member of The Twin Cities Poodle Club
where you can find quality Poodles and Breeders: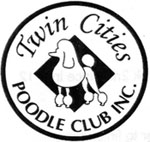 We are also proud to be recognized by the
National Poodle Club of America: