UPDATED:  MONDAY- JANUARY 21, 2019
BIG HUGS AND SPECIAL ATTENTION to "Duffy" and "Elvis".  These two "cousins" had lived their entire life with a lady who recently lost her partner and now was going to find herself homeless.  Living on the streets is something we all are tragically seeing and becoming more aware of.
However, there truly are good people in this world who have stepped forward to help this lady find a new place to live and receive the help she needs.  Because the owner is no longer able to care for her Poodles, Picket Fence Poodle Rescue was then contacted to help find Duffy and Elvis a new and loving family so they can also begin a new life.
Thank you, Diane!
Duffy is a very sweet, gentle and loving red Toy Poodle who just turned 10 year old (born: 12/02/2008).  He is a bit chunky and overweight at 9.5 pounds while only measuring 9 1/2 inches tall.  Because he is so overweight, he can not jump onto or off of our furniture.  He is also a bit stiff, but has quickly learned to go up and down our steps.   With the Dasuquin MSM that we are giving him, plus losing some weight, he will soon begin to run and jump much better.  Thank you for your donations!
While Duffy is a very quiet Poodle, you can see in the following video, he sometimes likes to talk.  I'm not always sure what he wants, but I am working on interpreting his demands.
Elvis is also an extremely gentle, loving and quiet, tiny Toy Poodle.  This little boy will soon be 9 years (born: 01/17/2010), is only 5 pounds and 8 1/2 inches tall.  Elvis is active and extremely affectionate as he loves to be held, carried and to sit in my lap.
Neither one of these boys play with toys, but they will follow you all around the house watching and wondering what you are doing.
We do have the AKC registration papers for Elvis which show that he was bred by the late Sherman Biddle of Minneapolis.  Many of us in the Twin Cities Poodle Club are familiar with Sherman as at one time, Sherman did breed some of the top Poodles in Minnesota.  It appears that Elvis was born shortly before Sherman died.
Both of these boys have been house dogs all their life.  They will walk on a leash but need a fenced yard.  They are just fine with other small dogs and cats.  Please NO large dogs and NO children.
We do have all their Veterinarian records and can clearly see they have been well cared for and  neutered.  Our Vet has meet with them and their clean their remaining teeth,  They have them heartworm tested, update their vaccinations, worming,  Home Again micro chipped and registered.
These 2 boys are just fine by themselves, but the owner has asked that both of these wonderful little Toy Poodles be adopted as a "bonded pair".  We are honoring her request.
To the right family, these two boys only have a $400.00 adoption fee which includes our $28.00 Minnesota state sales tax, a kennel for each boy, 2 bags of dog food, various treats, their blankets, toys, leash, collars and bag full of their "wardrobe" which consists of various coats and costumes.
---
---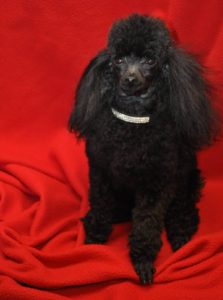 OH MY GOODNESS…. ISN'T SHE PRETTY?  LITTLE (PRINCESS) "POET", A BLACK, 5 YEAR OLD, FEMALE, TOY POODLE will be available for adoption soon.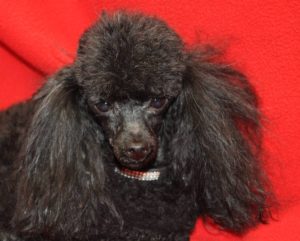 NOTICE: NO APPLICATIONS WILL BE ACCEPTED UNTIL THIS PRINCESS IS AVAILABLE FOR ADOPTION!!!  Thank you for your patience.

---
---
---
ADOPTION PENDING ON BINGO…..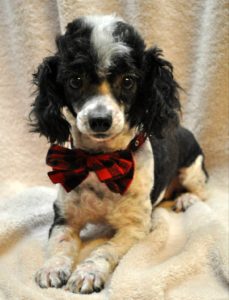 THERE WAS A FARMER WHO HAD A DOG AND "BINGO" WAS HIS NAME….  Remember that song?  Well now say hello to "BINGO", a black and white, silly, Parti-Poodle who arrived from a northern Minnesota breeder.
This is an 8 year old (05/29/2010) Toy Poodle that weighs a healthy 9 pounds and is just 10″ tall.   Bingo is just one of those fun loving, sociable and outgoing boys who loves to play with toys and will even run around the house with a little toy in his mouth.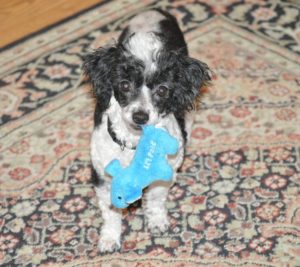 Bingo also just loves attention.  He follows us all over the house and really wants to be picked up and loved.  Just sit down and he will be the first Poodle who will climb into your lap.
Bingo has been a kennel dog all his life.  So now we have introduced Bingo to living his life in a home with a family (house training).  We've had a few accidents, BUT we do watch him and have seen great improvements with this learning process.   Poodles like Bingo are extremely smart.  He will learn and be perfectly house trained with time, patience and consistency.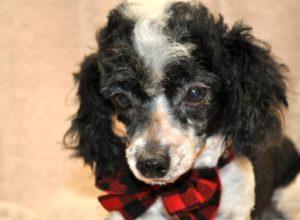 Yes, this was Bingo's first Christmas in a home, so he got to enjoy hearing lots of Christmas music, the smells of cookies baking, watch the endless Christmas movies now showing on TV and seeing the joy of our grandchildren opening up their gifts…
Bingo has been neutered, heart-worm and Lyme's tested negative, Home Again micro-chipped and registered.  Bingo's teeth cleaned up nicely, but he also had extensive and expensive work done (including x-rays) so that various rotting and broken teeth were safely removed.   Bingo has an ear infection.  Our Vet flushed his ears and then treated them by inserting an oto-pack into his ear canals. These drugs are time released to kill the bacteria and infections!  Isn't that amazing?!   Yes, thank you for your donations!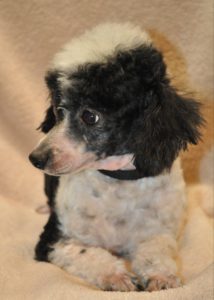 His ears will be checked one more time before he is adopted.  Vaccinations and worming have also been updated.
Bingo would prefer to be an ONLY dog.  He ignores the other dogs as then he can get all of your attention.  Please, no small children.  Also he is NOT leash trained, so a fenced yard or exercise pen will be required.
His $350.00 adoption fee includes our $23.00 Minnesota state sales tax, all his Vet work, a bag of dog food, treats, a new blanket, a kennel, collar, leash, a doggie bed, various toys and lots of good information to help your adoption start off on the right paw forward.
Please contact us if you have any questions.
---
---
ADOPTION PENDING ON BRUNO…..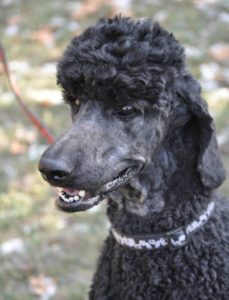 This is a friendly, silly, fun loving, yet gentle, 55 pound, 26" tall, 2 year old (05/04/2016) Standard Poodle!
Mike and I quickly found Bruno to be an amazing, sociable and simply a wonderful Standard Poodle boy!  He will follow us around the house, is very food motivated, loves to be hugged, be with people and enjoys going for car rides.  Grab a leash and he will walk to the end of the world with you.  Just be prepared to handle all the attention you will receive while walking this handsome boy.
We have also noticed that Bruno enjoys watching TV!  While the Disney movie "UP" was on TV a few nights ago, Bruno became concerned about all the barking going on.  He walked up to the TV to get a closer view of all the dogs belonging to "Charles Muntz" (pictured left) as they barked and closed in on Mr Frederickson and Russell.   But, Bruno was glad when the dogs settled down and didn't hurt anyone.  Oh so funny….
Bruno came to us from a loving senior couple who were sadly dealing with failing health, having a difficult time caring for themselves and Bruno who needed more Vet attention, care and time than what they could provide or afford.
When Bruno arrived here, he was in the process of being treated for extremely severe ear infections known as Pseudomonas Otitis.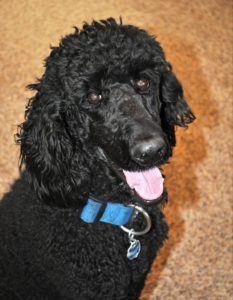 In preparation for his ear treatments with our Vet, we shaved Bruno's ears naked.  This certainly helped the air to enter his ear canals and assisted in his speedy recovery.  Bruno didn't mind as he thinks this look makes him more handsome!  Hmmmm… Don't you think he's right?
The University of Minnesota created an ear pack which combines various drugs to treat his infections. Our Vet then flushed Bruno's ears and inserted this specially made ear implant deep into his ear canals. The drugs were time released to kill the bacteria and infections! Isn't that amazing?!
At his recent check up, we learned that Bruno's ear infections are gone! He is doing just fine despite the fact that his ear drums will take more time to heal. But we know that most ruptured eardrums heal without surgery within three to five weeks.
Yes, Bruno can hear and will be
just fine.
As seen in the videos below, Bruno LOVES to run fast and far, so a fenced yard will be required!  He is tolerant with other large dogs, but has always been an only dog.  This big boy considers himself to be a member of a family and NOT the pet.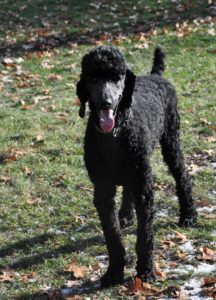 True to the Standard Poodle breed (bred for hunting), Bruno lets us know when the squirrels and deer get too close to our home.  Absolutely NO cats, NO small dogs and NO young children.
To the right family, Bruno's $ 850.00 adoption fee includes the $55.00 MN state sales tax, all of his Vet work, his shots are up to date, his teeth have been cleaned, he has been wormed, neutered, heartworm tested negative, Home Again micro chipped and registered.  Bruno is CKC registered, but his papers and pedigree are not included with this adoption.
Also included is his collar, leash, a very large bag of quality dog food, treats, various squeaky toys, a new blanket and an optional large wire crate.
NOTICE: Like most all rescue groups, because we do home visits before and occasionally after the adoption, we do NOT adopt our Poodles to homes outside a 1 days drive from our location here in central Minnesota.
Please contact us if you have any specific questions.
---
---
---
CLICK ON THE FOUR BELOW LOGO'S TO SEE OTHER POODLES
AVAILABLE FOR ADOPTION AT THESE SITES:

We are a member of The Twin Cities Poodle Club
where you can find quality Poodles and Breeders: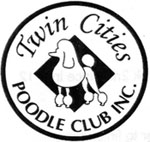 We are also proud to be recognized by the
National Poodle Club of America: