UPDATED:  WEDNESDAY – DECEMBER 13, 2017

NOW AVAILABLE FOR ADOPTION…
TEXAS has endured an extensive surgery to remove both of his femoral heads, followed by physical and laser therapy, a neuter and a teeth cleaning!  Despite all that he has gone through, he continues to move forward with his outgoing, loving, silly and fun loving attitude!  Could you do that?
At 8 weeks of age, this very cute, feisty and tiny Toy Poodle had been purchased by a BYB and flown to Minnesota from a Texas breeder.  As time went by, the puppy became more and more crippled.
At 1 year old (born 08/29/2016), and only 4 pounds, "Texas" had X-rays taken which tragically confirmed that he has Legg-Calvé-Perthes Disease.  Picket Fence Poodles was contacted and we accepted this tiny Toy.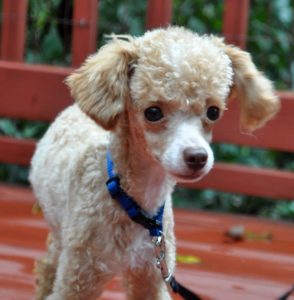 We met with a Orthopedic Specialist and learned that both of his hips needed a surgical treatment which is called a femoral head osteotomy (FHO). The procedure involved making an incision over the hip region, and then the joint is exposed, and the femoral head and neck are removed. There was no need to secure the cut bone, because as it healed, fibrous tissue formed in the region so that bone doesn't rub against bone, and the muscles hold the hip in place.
The difference with having an FHO versus other orthopedic procedures is that activity is not restricted after surgery. In fact, it was encouraged because it will help maintain range of motion in the joint and strengthen the muscles.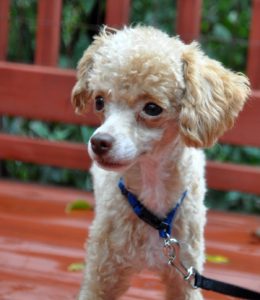 The surgery to remove both of his femoral heads took place on Thursday, October 19th and he is now using his rear legs!
The Vets have all explained how the rear muscles will continue to develop as the rear legs are used by making Texas walk, run and going up and down the steps.   We have also completed his Laser Therapy  which was an option available to help eliminate his pain.
No more surgery, therapy, drugs or treatment is needed!!  With this proper surgical technique, virtually 100% of these animals have become ambulatory and free of pain.  With our discount, this surgery was over $2,000.00.   Thank you to everyone who has helped with donations to help pay for this required surgery.  We feel that "Texas" is one special little boy who has an excellent chance to live a normal, pain free life with a family of his own!
Texas is now doing just fine and will be just fine!  He has ONE MORE VET visit on Friday, December 15th to have just one tooth pulled. Below is a recent video of him walking much better….
Texas is not good on a leash, so he needs a fenced yard or exercise pen.  As pictured, he LOVES to play with Maria and any other Poodle who wants to play with him.  This 1 year old little boy  also wants to be held, cuddled and loved.  Still at just 9″ tall and only 4 pounds, he is a VERY SMALL (tiny) Toy Poodle who will be fine with another fun loving, gentle, small dog OR by himself.  Please, NO LARGE DOGS and NO CHILDREN!
His $470.00 adoption fee (plus the $30.00 Minnesota state sales tax) helps pay for just SOME of his Vet expenses.  Also included with his adoption is all of his Vet records, a kennel, leash, collar, a new blanket, a bed, a bag of dog food, treats, some toys along with lots of good information to get your adoption off on the right paw forward.
A rare and wonderful opportunity for the right family!  Please contact us if you have any specific questions.  Thank you.
---
---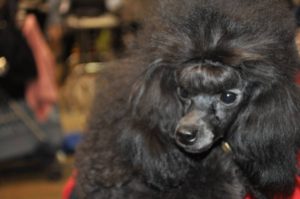 NINA is my beautiful  "AKC Champion Pickets Time Out" who was born April 9th, 2013.   Her sire is from the famous "Hells A Blazen" lines!!  Nina is the last of my Toy Poodle lines as I am no longer breeding or showing Toy Poodles.
In the past 20 years, Picket Fence Poodles has produced many top quality AKC Champion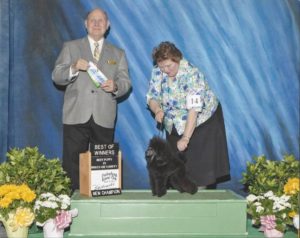 Toy Poodles.  I am very proud and happy to have helped preserve the quality, disposition and personality a Toy Poodle is known for.
But every beginning has an end and it is now time for that end.  Yes, a difficult and tearful decision for me.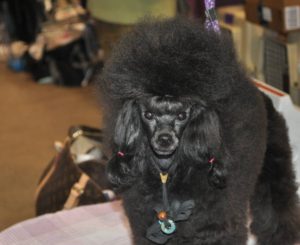 Nina quickly finished her AKC Championship as a puppy.  Shortly after that,  she had fallen and broke her right front leg.  Surgery, pins and metal were used to fix her leg.  She recovered nicely and is still very active while jumping up and down in delight!  Nina has produced 2 litters of puppies of which only 1 female puppy has the chance to become a Champion.
Nina has been deeply loved and well cared for all of her life.  At just 10″ high, weighing only 5 pounds, Nina is very active, alert and friendly once she gets to know you.  She tolerates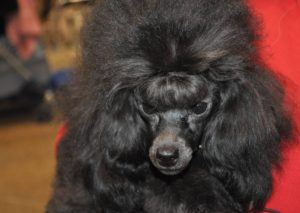 many of the other Poodles, but will follow me all over the house always waiting to be picked up, held and loved.  This little black girl is not looking for a dog friend, but a person friend.  She considers herself a family member and NOT a dog.
Nina has been leashed trained to walk in the show ring, so if you like to go for walks, you will certainly get lots of attention from people admiring her beauty.  Because Nina has been taught NOT to relieve herself while on a leash, a fenced yard or exercise pen will be required.  This is a very fine boned, small Toy Poodle so absolutely NO large dogs and NO children!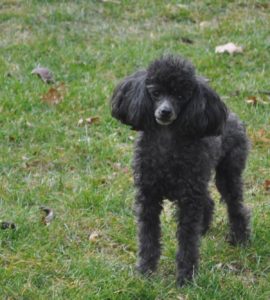 All of Nina's testing has been done.  Including a PRA test,  OFA registered for hips, elbows along with testing which show no evidence of thyroid disease, no evidence of Legg-Calve Perthes and no patellar luxation.
Nina has been spayed, teeth cleaned, wormed, shots are up to date, Home Again micro chipped and heart worm tested negative.   To the right family, Nina's $1,000.00 adoption fee will also include many of her show ribbons and pictures, her AKC title papers, her pedigree, all her of Vet records.  Also included is her kennel, leash, collar, a new blanket, a bed, a bag of dog food, treats, toys along with lots of good information to get your adoption off on the right paw forward.
Please contact us if you have any specific questions.  Thank you.
---
---
My friend Melanie of Autumn Hills Poodles, has a blue and white, female, Standard Poodle available for adoption.   This 5 year old Poodle needs a hair cut, so I will have pictures of this big girl very soon.  The picture I have posted here gives you an idea of the various options a black and white parti-Poodle would look like.
This is a rescue situation for Melanie as the Poodle has lived most all of her life in a kennel situation.  This girl is calm, quiet, not needy, but a bit shy at meeting new people.  However, once she knows you, she will settle in quickly.
A wonderful opportunity for the right family as this Standard Poodle will need work in establishing house training skills (easily done with a kennel, routine and consistency), learning about living in a home (counter surfing) and how to enjoy the loving attention people will give her!  So YOU get to teach her how wonderful life can be!
She is just fine with other dogs, large and small, but has not been around small children.
Melanie is working on getting this pretty girl groomed, spayed, up to date on her shots, worming and any other needed Vet work.
PLEASE CONTACT MELANIE for more information:  autumnhillspoodles@hotmail.com
---
---

PLEASE! We are NOT accepting any applications for Angel or her pup at this time.
Angel is a 4 year old (09/18/2013), brown, female Standard Poodle who came to us from a breeder that no longer wanted to breed Standard Poodles.  However, the breeder had sadly forgotten that she had bred Angel to a "Burmese Mountain Dog" over the Labor Day week-end.
In first 3 days that this gentle Angel was with us, we quickly realized that she was pregnant and was already a week "overdue".  X-rays were then taken and an emergency C-section was immediately done Friday morning, November 10th.
Sadly, all the pups were dead, but ONE female puppy did survive!  Our Vet wasn't sure this 10 ounce pup was going to live though the night.  But today the puppy is still alive, feisty, nursing just fine and gaining weigh. At 4 weeks of age, this puppy now weighs a healthy 4 pounds and has begun to eat dog food!
And yes, her mom, a wonderful and loving Angel, is doing just fine too.
This truly is a MIRACLE!!  Yet, a very expensive and tearful event for everyone involved. Thank you for your support and encouragement.
Again, we are NOT accepting any "Adoption Applications" for Angel or this puppy at this time.  This "Bernedoodle" puppy needs to survive, be over 8 weeks of age and Vet checked.
Angel needs to care for her puppy and recover.  You need to have patience and wait until after Christmas.  Thank you for understanding. -gail-
---
---
---
CLICK ON THE FOUR BELOW LOGO'S TO SEE OTHER POODLES AVAILABLE FOR ADOPTION AT THESE SITES:

We are a member of The Twin Cities Poodle Club
where you can find quality Poodles and Breeders: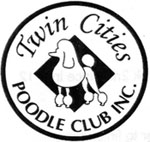 We are also proud to be recognized by the
National Poodle Club of America: