UPDATED:  FRIDAY – OCTOBER 20, 2017
AVAILABLE FOR ADOPTION…
"GUCCI" AND "DIVA" are two Poodles who come to us from a humane society in Wisconsin where they had been surrendered by their owner last year.  They had been quickly adopted by a senior couple.  However, less than a year later, the couple's health began to fail and sadly, the Poodles were returned to the shelter.
Picket Fence Poodle Rescue was then contacted to help this exceptionally nice pair of Poodles.
Gucci and Diva are creamy white Miniature Poodles who were born November 9, 2013.  This brother and sister pair have been together all of their life and are available for adoption as a bonded pair.
Gucci (purple collar) measures 15″ tall (floor to shoulders) and weighs a healthy 13 pounds.  Despite his obvious under-bite, Gucci has an extremely gentle, soft, easy going personality.  What a lover boy!  He would love to climb into bed with us, but we're going to let the new family decide if that is O.K.
He is active, alert, sociable and outgoing, but always ready to sit in your lap or follow you around the house.  Not a mean bone in his boy.  He is about the most perfect Poodle you could find.
Diva (pink collar) measures 14″ tall (floor to shoulders) and weighs a healthy 12 pounds.  This is a pretty girl who is also a gentle, soft and loving Poodle.  Perfect in every way and also wants to join us in bed at night.
However, like her name, Diva is more outgoing and interested in everything!  What a Diva!  And can she run!!  Like her brother, she loves to visit with everyone who comes to visit, enjoys sitting in any lap open for her or will snuggle up next to you if all laps are full.
What a opportunity for the right family.  These 3 year old Miniature Poodles are an especially wonderful and perfect pair who are the first ones to welcome everyone into our home.  They are quiet loving Poodles that enjoy being with men as well as women… while tolerating children.
They would prefer to be the children and the center of attention in your family.  Put on their harnesses, and both these Poodles will walk to the end of the world with you.
Because Diva loves to run, please understand that she needs to be on a leash or in a securely fenced yard/pen.  This is an extremely smart girl who found an opening in our fenced yard and dug her way out.  YIKES!  However, with Gucci's help, we did catch and hug that naughty Diva.
As pictured, she was so sorry for what she did and has promised never to do that again.  The hole was plugged, our fenced yard is once again secured with underground chicken wire (instructions found on U-Tube) and Diva has NOT escaped since.
Gucci and Diva will be adopted together.  They have been Vet checked healthy and recently had their teeth cleaned.  They are up to date on all of their shots, worming, heartworm tested negative and placed on a preventative, Home Again micro-chipped and registered.
Their $600.00 ($300.00 each!) plus the $42.00 ($21.00) Minnesota state sales tax (total: $642.00) adoption fee will include all of their vet work, kennels, leashes, collars, harnesses, bags of dog food, treats, some toys, coats, two new blankets, a big bed, along with lots of good information to help your adoption move with the right paw forward !
Please contact us if you have any specific questions.
---
---
---
NOTICE:  Texas will NOT be available for adoption until all of his Vet work is done, his physical therapy is completed and he has healed from his surgery.
At 8 weeks of age, this little, cute, feisty and tiny Toy Poodle had been purchased by a BYB and flown to Minnesota from a Texas breeder.  As time went by, the puppy became more and more crippled.
At 1 year old (08/29/2016), and only 4 pound, "Texas" had X-rays taken which tragically confirmed that he has Legg-Calvé-Perthes Disease.  Picket Fence Poodles was contacted and we accepted this tiny Toy.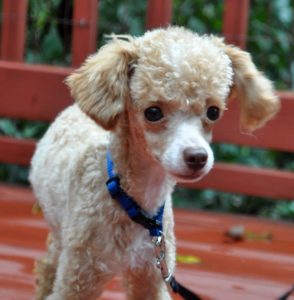 We have met with a Orthopedic Specialist and learned that both of his hips need a surgical treatment which is called a femoral head osteotomy (FHO). The procedure involves making an incision over the hip region, and then the joint is exposed, and the femoral head and neck are removed. There is no need to secure the cut bone, because as it heals, fibrous tissue will form in the region so that bone doesn't rub against bone, and the muscles hold the hip in place.
The difference with having an FHO versus other orthopedic procedures is that activity is not restricted after surgery. In fact, it is encouraged because it will help maintain range of motion in the joint and strengthen the muscles.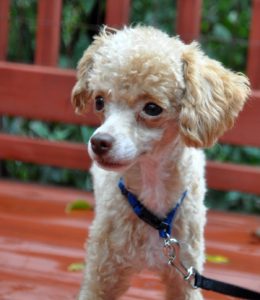 The video below shows how young and very active Texas is.  Sadly, you can also see he has begun to lift up his rear legs (wheelbarrow) to eliminate the pain of moving around.  We can see that this is reflecting in the loss of rear muscles.  Without the surgery, he will eventually lose the ability to use his rear legs.
The surgery to remove both of his femoral heads took place on Thursday, October 19th.    Texas did just fine and is now home with us.   Hard to look at this picture, but he will quickly heal and feel much better.  Physical therapy beings soon.  His neuter and dental will be done at a later date.
We have HOPE!  With this proper surgical technique, virtually 100% of these animals have become ambulatory and free of pain.  With our discount, this surgery was $2,000.00.
We trust that people will help with donations to help pay for this required surgery.  We feel that "Texas" is one special little boy who has an excellent chance to live a normal, pain free life with a family of his own!

---
---
BUFFY WILL BE AVAILABLE FOR ADOPTION SOON.  Please be patient.
YES, I KNOW.  "BUFFY" is not a "POODLE", but instead a "COCKAPOO" (Cocker Spaniel x Poodle).
And yes, we normally do NOT take mix breed dogs.  But once in awhile we do make an exception.
So say hello to "Buffy" who has been deeply loved all his life by one special senior lady.  Sadly, she can no longer care for her beloved Buffy and a tearful surrender to Picket Fence Poodle Rescue was done.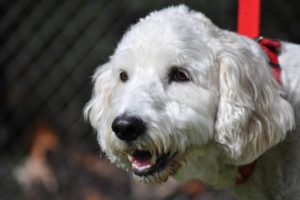 Buffy is 7 years old (01/05/2010), neutered, weighing in at a healthy 40 pounds and stands at 20 inches tall.  He is about the size of a small Standard Poodle.
We have found Buffy to be extremely soft, gentle, mellow, loving and quiet.  What a good boy!
He loves Mike and will follow us around the house as Buffy has been a companion dog all of his life.  He sleeps in our bed room, on his own cushion, next to our bed.
It would be best that Buffy be adopted by a family with someone home most of the time.  Buffy doesn't like to be left behind as he considers himself a member of a family and not a dog!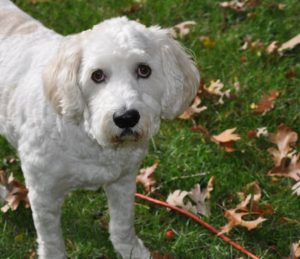 Buffy is fine with all of our Poodles, gets along just fine with cats and children but prefers to be an only dog.  He comes with a huge box of toys, but I've not seen him playing with any of them.
Grab a leash and his harness!  Even though he tore his right rear ACL when he slipped and fell on the ice a few years ago, he is always ready to go for a walk. Even I can't keep up with him!  Think I should take some of his Dasuquin MSM!? The only time we see him favor that leg is when he lifts it up to go up and down the steps.
This big boy loves to ride in our car as we go to various events and to the pet stores where he loves visiting with other people and dogs.  He also greatly enjoyed playing in our yard while we were raking leaves.  Did I tell you that this is a really nice boy?
In 2012 and since that time, Buffy has tested positive for Lymes.  Because he has NEVER displayed any symptoms of the disease and has been feeling just fine, he has not be treated.
I realize the treatment of Lymes is a controversial issue.  However, Buffy needs a simple dental (teeth cleaning), so we are moving forward with the 30 day treatment of Doxycycline.
Yes, Buffy is just fine.  Many dogs and people live long and healthy lives when diagnosed with Lymes.  After he has been on the anti-biotics (Doxycycline) for 2 weeks, Buffy's teeth will be cleaned and then he will be available for adoption.
More information soon.  Thank you for your patience!
---
---
---
CLICK ON THE FOUR BELOW LOGO'S TO SEE OTHER POODLES AVAILABLE FOR ADOPTION AT THESE SITES:

We are a member of The Twin Cities Poodle Club
where you can find quality Poodles and Breeders: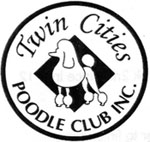 We are also proud to be recognized by the
National Poodle Club of America: