UPDATED: FRIDAY – JANUARY 24, 2020 –
ADOPTION APPLICATIONS ARE NO LONGER BEING ACCEPTED FOR LILLY……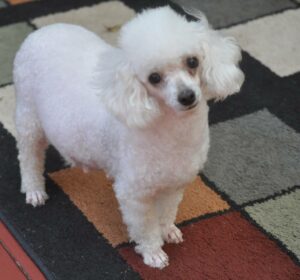 "LILLY", is a creamy white, female Toy Poodle who came to us in October as she was due any day and unable to be safely transported with all the other Poodles after Susan Johnson (of "Sue's Poos") unexpected death.
We are unsure of Lilly's age, but both the Staples Vet Clinic and Barrington Oaks Vet Clinic feel she is about 2 or 3 years old.  She is a small Toy Poodle that is just 8" tall and weighs a chunky 6.8 pounds.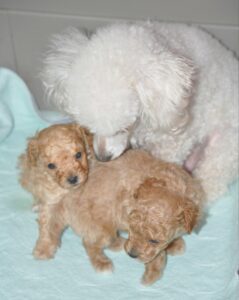 This is a very gentle and loving little girl who has been such a good mom to her puppies.  While she really doesn't play with any toys or any of the other Poodles, she does enjoy playing and running with her puppies…. until she's tired of them.   Then she likes sitting on our couch or in a soft cushion while watching all that is going on.
Once in a while, she will do the Poodle "zoomies" and run around the house like the devil is chasing her.  If you've seen those Poodle zoomies, you know what I mean.
Lilly is a gentle, cream-puff who would enjoy a quiet and loving environment.  She is shy around new people, especially men but is eventually getting use to Mike since he's been feeding her treats.  She LOVES her food.  Lilly will follow me around the house, be the first one to jump into my lap when I sit down and greatly enjoys attention.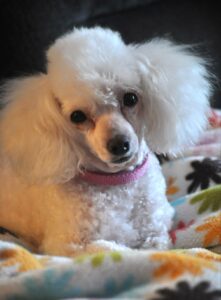 *We do NOT "SHIP" OR adopt our Poodles to homes outside a 1 days drive (500 miles) from our central Minnesota location.
*NO aggressive, NO assertive dogs or NO large dogs.  Lilly would be fine by herself or with an older, gentle or any easy going small dog that she doesn't have to play with.
*NO young children as they really scare this cream puff.
*A fenced yard or small exercise pen will be required as Lilly has been a kennel dog all her life.
*Poodle experience will be given priority.
To the right family, Lilly's adoption fee is $400.00 which includes the $30.00 Minnesota state sales tax. She is up to date on all of her shots, she has been Heartworm / Lymes / Ehrlich / Anaplas tested negative, wormed, Home Again micro-chipped and registered.   Also, her teeth have been cleaned, she has been spayed and Vet checked "healthy".
Her adoption fee also includes a new leash, collar, her new kennel, a bag of quality dog food, treats, a folding toy box, a new blanket, a soft doggie bed along with lots of good information to help your adoption move forward on the right paw!
---
---
---
---
CLICK ON THE FOUR LOGOS BELOW TO SEE OTHER POODLES
AVAILABLE FOR ADOPTION AT THESE SITES:

We are a member of The Twin Cities Poodle Club
where you can find quality Poodles and Breeders: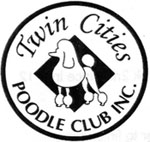 Picket Fence Poodle Rescue is also proud to be recognized by the
National Poodle Club of America: