UPDATED:  SATURDAY MARCH 23, 2019
YES.  "Duffy" and "Elvis" are still available for adoption and still waiting for the right family to come forward to adopt them.
These two "cousins" had lived their entire life with a lady who recently lost her partner and now was going to find herself homeless.  Living on the streets is something we all are tragically seeing and becoming more aware of.
However, there truly are good people in this world who have stepped forward to help this lady find a new place to live and receive the help she needs.  Because the owner is no longer able to care for her Poodles, Picket Fence Poodle Rescue was then contacted to help find Duffy and Elvis a new and loving family so they can also begin a new life.  Thank you, Diane!
Duffy is a happy-go-lucky,  gentle little red Toy Poodle who was born December 2008.  He only measures 9 1/2″ tall and at 9.5 pounds, he was a bit chunky.
With small amounts of quality dog food, Duffy has now lost 1 pound!  He still can not jump onto our furniture, but can jump off.  He has also learned to go up and down our steps with the Dasuquin MSM that we are giving him.  He did enjoy running and playing with "Princess Poet" when she was here!
While Duffy is a tiny and very quiet Poodle, you can see in the following video, he sometimes likes to talk.  I'm not always sure what he wants, but I am working on interpreting his demands.
Elvis is also an extremely gentle, loving and quiet, TINY Toy Poodle.  This little boy will soon be 9 years (born: 01/17/2010), is only 5 pounds and 8 1/2 inches tall.  Elvis is active and extremely affectionate as he loves to be held, carried and to sit in my lap or the lap of anyone who comes into our home.
Neither one of these boys play with toys, but they will follow you all around the house watching and wondering what you are doing.  We do have the AKC registration papers for Elvis.
Both of these boys have been the only dogs in a loving home all their life. They will walk on a leash but need a fenced yard. They enjoy each other's company, but Duffy doesn't like other dogs around.  He becomes very sad as Elvis is enough for him.  Sorry, NO other dogs, pets or children.
We do have all their Veterinarian records and can clearly see they have been well cared for.  Our Vet has met with them and cleaned their few remaining teeth.  They have been heartworm tested negative, are up to date on their vaccinations, worming,  Home Again micro chipped and registered.  They are both PERFECT gentlemen in our home (house trained), very healthy and again, have been loved.
The boys are fine by themselves and it would be easier for us to adopt the boys separately.  However, the owner has asked that both of her little boys be adopted as a "bonded pair" and we are honoring her request.
To the right family, these two easy going little boys only have a $350.00 adoption fee which includes our $25.00 Minnesota state sales tax.  Also included is a kennel for each boy, 2 bags of dog food, various treats, their blankets, toys, leash, collars and bag full of their "wardrobe" which consists of various coats and costumes.  Please contact us if you have any questions.
---
---
AVAILABLE FOR ADOPTION SOON….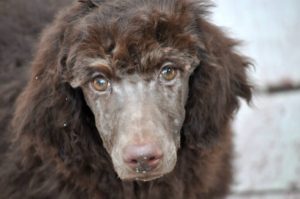 These two AKC Standard Poodle puppies were born November 22, 2018 and come to us from a breeder who sadly could no longer care for them.
Mike and I picked up the puppies this past week-end (St Patrick's Day) so we call them "Patrick" and "O'Connor".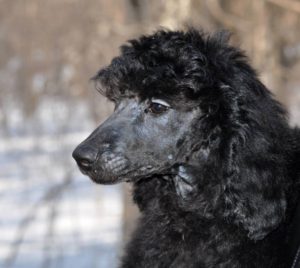 Both of these boys were VERY shy, but we are already seeing them change as there is potential:  These are POODLES!
Since they arrived, they have been crate trained and have quickly learned to go outside and come back in.  They are also extremely food motivated!
Yes, these puppies need socialization, are still a little hard to catch, don't come when they are called, can't do steps and are not leashed trained.  But this all will come with time, patience and love.  I also know that these boys will learn how wonderful life is with people.
Less than a week with us, this video shows how quickly they are learning to play with toys:
We will be posting pictures, video's and more information soon.
NOTICE:  We are in need of foster homes who can help us care for more Standard Poodle puppies.  You must be located relatively close to us (Elk River, MN), have a fenced yard, no small dogs and have time, patience and love for some Standard Poodle puppies!
---
---
THIS TINY FEMALE POODLE had sadly broken her left front and left rear legs when she was just a few weeks old.  It was an accident and the breeder's Vet did all they could to help.  But now at 3 months old, her bones were not healing correctly, so the breeder surrendered this tiny 1 1/2 pound girl to us.
Our Vet has taken various x-rays of her broken legs and then involved a Specialist.  They found that her rear leg has a broken tibia and fibula.  Our Vet put a splint on that leg.  It needs to be changed every week, but there is hope that the leg can be saved.
The front leg appears to have healed as she uses that leg.  But x-rays show that it may have healed incorrectly.
Yet this tiny little girl comes with a big attitude of fun and joy!  What a inspiration she is to us and everyone at our Vet's office.  They have named her "Peggy Sue".
Peggy Sue will be meeting now with the Specialist on Wednesday.  The hope is that the front leg will heal correctly or that a surgery can correct the leg.
Yes, this is going to be expensive.  But we trust your donations will help cover her expenses.  Thank you.
---
---
THE FOLLOWING STANDARD POODLE PUPPIES ARE FOR SALE FROM THEIR OWNER/BREEDER….
These most beautiful, loving and simply wonderful Standard Poodle puppies are NOT RESCUE Poodles, but are living with and for sale by a very reputable, high quality Poodle breeder.
The 2 girls and 1 boy were born on October 27, 2018 and come from quality AKC champion lines with all testing done on both parents.  All the puppies are sociable, smart, sensible, calm and affectionate.  They're happy to cuddle or entertain themselves with a toy. They're also good with other dogs.  The owner is not sure about cats as she doesn't have any.
These puppies have been deeply loved and well cared for.  They have been vet checked healthy, shots and worming are up to date.
The owner will adopt to families with children who are older than 8 years of age.  Thank you for understanding that young children, toddlers & babies require a lot of attention.  So as a new puppy owner, you need to be able to give the puppy appropriate time and attention.  Also a fenced yard will be required.
NOTE FROM KAY:  Personally, I'm in love with these puppies!  They're so adaptable. They have quickly and easily learned to walk on a leash,  go up & down flights of stairs, will go to their pen and they come when they are called. They're bright and eager to please.  You can also see that they are very pretty too!   I'm trying to not keep one!
To the right family, their $2,000.00 fee includes their AKC papers, a spay/neuter contract along with copies of the parents' genetic testing.
Please contact Kay at 952-920-0329 OR you can email her at:  Kmr3912@gmail.com.
---
---
---
CLICK ON THE FOUR BELOW LOGO'S TO SEE OTHER POODLES
AVAILABLE FOR ADOPTION AT THESE SITES:

We are a member of The Twin Cities Poodle Club
where you can find quality Poodles and Breeders: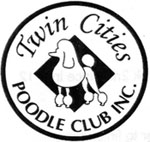 We are also proud to be recognized by the
National Poodle Club of America: