UPDATED:  THURSDAY – DECEMBER 5, 2019 –
AT THIS TIME, WE DO NOT HAVE ANY POODLES AVAILABLE FOR ADOPTION.
PLEASE CONTINUE TO WATCH OUR WEB SITE AS WE DO NOT KNOW WHAT WILL COME AVAILABLE AND WHEN.
THANK YOU.
---
---
A SPECIAL THANK YOU TO ALL WHO DONATED TO PICKET FENCE POODLE RESCUE THROUGH THE RECENT MINNESOTA "GIVE TO THE MAX" DAY!  PICKET FENCE POODLE RESCUE RECEIVED $1,005.00!
We do rely on donations, grants and adoption fees to help with the Veterinarian expenses such as neutering, spaying, worming, teeth cleaning, Heartworm/ Lymes testing, vaccinations, Home Again micro-chipping and daily care for all the Poodles who come to us in need of a new family,
Your donations also helped the close to 60 Poodles from "Sues Poos" who needed our help.  Story below…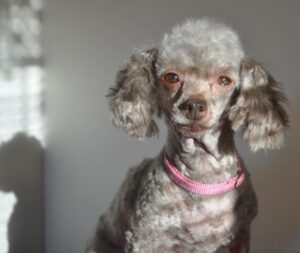 Pictured here is "SNICKERS", who had to remain at Sue's as her only puppy had been sold, but was to young to leave.  After the puppy was picked up by the new family, Snickers came to us.  She is now the very last dog from "Sues Poos".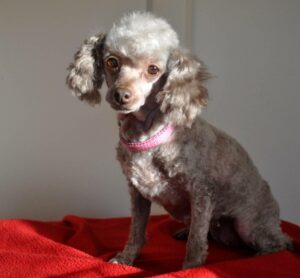 After her bath and hair cut, you can see that this silver beige Toy Poodle has the look of hope!   More information about Snickers will be posted AFTER all her Vet work is done.
PLEASE: NO ADOPTION APPLICATIONS WILL BE ACCEPTED UNTIL SHE IS AVAILABLE FOR ADOPTION.  THANK YOU!
---
---
---
NOTICE!!
The sudden and unexpected death of Susan Johnson at "Sues Poos" was a difficult and sad time.   Sue had made it clear that if anything should happen to her, that her husband, Dale contact us…. and he did.   Picket Fence Poodle Rescue then stepped forward to work with Dale and Sue's family.
We had immediately contacted our National POODLE CLUB OF AMERICA RESCUE as we knew this was going to be a very unfortunate situation that would require a lot of help and support from other qualified Poodle Rescue groups.
After Susan's funeral, my daughter Theresa and I met with Dale to take a complete inventory of the situation.  Dale and his family had decided that taking care of the 50+ adult dogs, puppies and pregnant females while dealing with Sue's death was too difficult for them to handle.  Sues Poos were then surrendered to Picket Fence Poodle Rescue.
Because we limit the number of Poodles we can accept, a professional transportation service was arranged and paid for by our National PCA Rescue.  Picket Fence Poodle Rescue paid the STAPLES VET CLINIC to go to Dale's home, provide the needed rabies vaccinations with certificates and health certificates for all of the dogs.  Thank you, Dr Kim Harff!
Sue's Poos were then moved to various PCA Poodle Rescues group where they will receive all their expensive and extensive Vet work (spay/neutering, worming, shots, dental, etc.) before they were adopted by qualified families.
This has been a difficult time for Dale, his family and me.  I've known Sue for 10 years and perhaps you will remember some of her dogs (as pictured) who were surrendered to us from Sue.
A special thank you to our "IT" children (Michael, Heather and especially Theresa) who helped Dale's family obtain needed computer information,  then close down Sue's Facebook page and her web site.  This will help Dale who now deals with the loss of his wife.
* * * * * * * * * * * * * * * * * * * *
During this time, only 3 dogs came to us from Sues Poos…. "Snickers" (story above) "Lilly" (story below) and "Skittles" who has been adopted.
"Lilly", who was due any day and unable to be safely transported, came to our home where she  gave birth to her litter of 5 puppies on Thursday, October 17th.
Sadly, only 2 of "Lilly's" puppies have survived.  With my years of experience dealing with breeding and showing Poodles, I tried so hard (tube feeding, vitamins, etc.) to save them all.  But it was too many puppies for such a tiny little Poodle, plus they were obviously premature.  My tears flowed and the angles wept as I buried each newborn puppy.  But I know they are all now in the loving arms of our Great God.
The remaining 2 Toy Poodle boys are strong, healthy and are doing just fine.  Lilly, a small 2 year old Toy Poodle, is such a good and loving mom.
NOTICE: Lilly and her puppies will NOT be available for adoption until after Christmas.  Thank you for your patience and understanding.
---
---
---
---
CLICK ON THE FOUR LOGOS BELOW TO SEE OTHER POODLES
AVAILABLE FOR ADOPTION AT THESE SITES:

We are a member of The Twin Cities Poodle Club
where you can find quality Poodles and Breeders: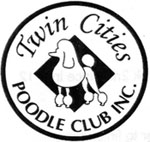 We are also proud to be recognized by the
National Poodle Club of America: