UPDATED: FRIDAY- DECEMBER 14, 2018

IMPORTANT NOTICE!!!  OUR "APPLICATION FOR ADOPTION" IS DOWN.
PLEASE BE PATIENT!  OUR "IT" DEPARTMENT IS WORKING ON IT!!!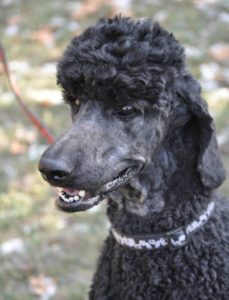 Bruno is now available for adoption!  This is one friendly, silly, fun loving, yet gentle, 55 pound, 26" tall, 2 year old (05/04/2016) Poodle!  MORE PICTURES SOON…..
Mike and I quickly found Bruno to be an amazing, sociable and simply a wonderful Standard Poodle boy!  He will follow us around the house, is very food motivated, loves to be hugged, be with people and enjoys going for car rides.  Grab a leash and he will walk to the end of the world with you.  Just be prepared to handle all the attention you will receive while walking this handsome boy.
We have also noticed that Bruno enjoys watching TV!  While the Disney movie "UP" was on TV a few nights ago, Bruno became concerned about all the barking going on.  He walked up to the TV to get a closer view of all the dogs belonging "Charles Muntz" (pictured left) as they barked and closed in on Mr Frederickson and Russell.   But, Bruno was glad when the dogs settled down and didn't hurt anyone.  Oh so funny….
Bruno came to us from a loving senior couple who were sadly dealing with failing health, having a difficult time caring for themselves and Bruno who needed more Vet attention, care and time than what they could provide or afford.   When Bruno arrived here, he was in the process of being treated for extremely severe ear infections known as Pseudomonas Otitis.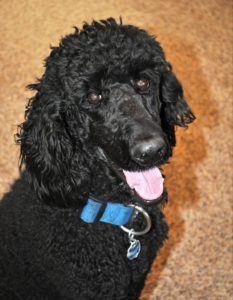 In preparation for his ear treatments with our Vet, we shaved Bruno's ears naked.  This will certainly help the air to enter his ear canals and did assist in his speedy recovery.  Bruno didn't mind as he thinks this look makes him more handsome!  Hmmmm… Don't you think he's right?
Our Vet, Dr Dennis Gallenberg at Barrington Oaks Veterinarian Clinic found that both his ear drums had ruptured and Lab results from the University confirmed more bacteria and various infections had then spread into his middle ears.  The University created an ear pack which combines various drugs to treat the infections.   Our Vet then flushed Bruno's ears and inserted this specially made ear implant deep into his ear canals.  The drugs were time released to kill the bacteria and infections!  Isn't that amazing?!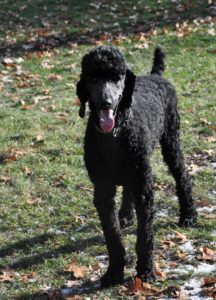 The majority of patients heal without significant complications within three to six weeks and so today, (December 14, 2018) we learned that Bruno's ear infections are gone!   He is doing just fine despite the fact that his ear drums will take more time to heal.  But we know that most ruptured eardrums heal without surgery within three to five weeks.  Yes, Bruno can hear and will be just fine.
As seen in the videos below, Bruno LOVES to run fast and far, so a fenced yard will be required!  He is just fine with other large, active and fun loving dogs, but will be just fine as an only dog.  This big boy considers himself to be a member of a family and NOT the pet.
True to the Standard Poodle breed (bred for hunting), Bruno lets us know when the squirrels and deer get too close to our home.  Absolutely NO cats, NO small dogs and NO young children.
To the right family, Bruno's $ 850.00 adoption fee includes the $55.00 MN state sales tax, all of his Vet work, his shots are up to date, his teeth have been cleaned, he has been wormed, neutered, heartworm tested negative, Home Again micro chipped and registered.  Bruno is CKC registered, but his papers and pedigree are not included with this adoption.
Also included is his collar, leash, a very large bag of quality dog food, treats, various squeaky toys, a new blanket and an optional large wire crate.
Please contact us if you have any specific questions.
---
---
MINNESOTA BASSET HOUND RESCUE HAS ASKED US TO POST THIS INFORMATION ABOUT THEIR "LAYLA".  And yes, she is still available for adoption!
Layla is a very sweet gentle Basset Hound Poodle mix.  We estimate her to be around 9 years old, is 13″ tall and she weighs approximately 28 lbs.
She gets along great with the six other hounds at her foster home.  Like a Poodle, Layla likes to "tell" the deer, turkeys and squirrels outside in the backyard that she's watching them.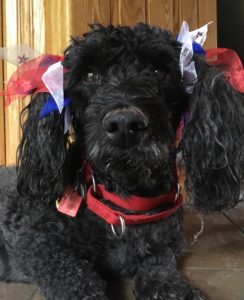 This cute girl tends to be a very mellow, easy dog to have around.   She will be sure to greet you with a wagging tail when you get home.
If you'd like a sweet mellow lady as a companion, Layla is your gal!
Layla would prefer a home with very few stairs as she does have some issues with her back legs being a bit stiff.  She takes a glucosamine supplement (Dasaquin DSM) for her joints along with some allergy medications ONLY for seasonal allergies.
Since she inherited a poodle coat, regular haircuts will be important for her.   She has a hard time with hard food and treats so softened food and treats would be her preference.  (NOTE FROM GAIL:  You can also soak a hard kibble in water or a sodium free broth to soften it).
For more information about Layla or to contact the Minnesota Basset Hound Rescue, please visit their web site:  www.mnbassetrescue.com.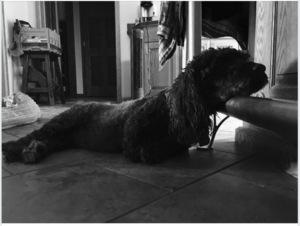 Thank you!
Minnesota Basset Rescue
www.mnbassetrescue.com
PO Box #68005, 1600 18th Ave NE
Minneapolis, MN 55418
612-568-8350
---
---
---
CLICK ON THE FOUR BELOW LOGO'S TO SEE OTHER POODLES
AVAILABLE FOR ADOPTION AT THESE SITES:

We are a member of The Twin Cities Poodle Club
where you can find quality Poodles and Breeders: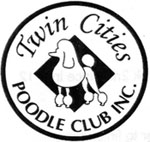 We are also proud to be recognized by the
National Poodle Club of America: