– UPDATED: SATURDAY MAY 22, 2020 –
NOTICE:  Thank you for your patience during this "Historical Time".
Like many rescue groups and Humane Societies, Picket Fence Poodle Rescue has been closed.
Our quarantine time is slowly ending and on Monday, May 11th, our Veterinarian was finally able to begin doing "elective" surgeries such as spays, neuters, dentals, etc.
We do have a few Poodles coming to us soon, but PLEASE CONTINUE TO BE PATIENT AS WE now work on how to SAFELY meet with people.
Thank you… Gail
---
---
WE ARE NOT ACCEPTING ANY MORE APPLICATIONS FOR "SCRAPPY".
This most beautiful and quality Toy Poodle was born April 2nd, 2019 and comes from AKC Champion lines with health tested parents.
She is NOT A RESCUE Poodle, but a "RE-HOME".  She belongs to my handler/groomer who is undergoing chemotherapy treatments for her cancer.  Because she must remain safe and isolated during this Covid-19 time, Picket Fence Poodles is assisting in finding a good and loving home for her little Poodle girl.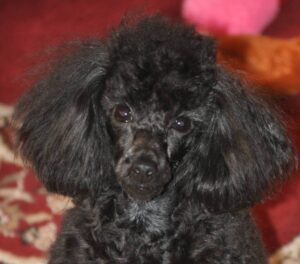 Scrappy is 9" tall measuring from the floor to her shoulders and weights a healthy 3 pounds 7 ounces.  While she has the size, personality and disposition for a "show" Poodle, she is going to be a "pet" Poodle for the right family.
Pet quality simply means that the Poodle isn't suitable for the show ring or for breeding.  We will be glad to discuss that in more detail with you if you are sincerely interested in adopting Scrappy.
What an active, silly and fun loving little girl.  Once she knows you, she loves being with you and will follow you everywhere, including into the bathroom!  She's also smart as she will sneak back into the bathroom and unroll an entire roll of our precious and rare treasure!  Have you ever tried to put T-paper back onto a roll?
As pictured in the video below, you can see how much she loves to run, run and run some more while playing with Mike and her many toys while Niko (who is deaf) tries to join in the fun: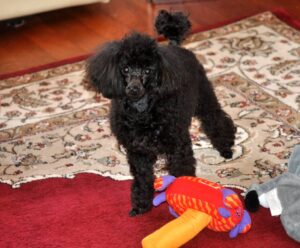 Did I tell you she is an active monkey??  But, when she's done running and playing, she loves to sit in my lap while being loved, cuddled and held.
Scrappy has been with us since the middle of March.  However, her availability for adoption has been on hold due to our Governor's quarantine and the "elective" medical restrictions imposed upon all Veterinarians here in Minnesota.
During this difficult time, Scrappy has certainly brought me much joy and happiness with her positive, fun loving attitude and exuberance for life.  We all will miss Scrappy, but she needs a loving home and family of her own.
In this video you can also see she enjoys playing with our senior Poodle "Sophie".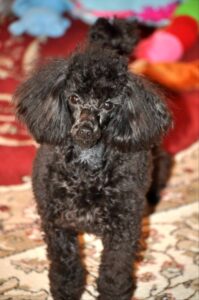 At just 1 year old, this little girl has been a perfect lady in our home (house trained).   You will be required to have a fenced yard or exercise pen as Scrappy loves to run and is not very good on the leash.
This is a tiny Toy Poodle, so absolutely NO large or aggressive dogs and NO young children.
Her $1,800.00 adoption fee includes her spay, teeth cleaning, worming, Home Again micro chipped and registered.  She is up to date on her shots, worming and Vet checked healthy.   Also included is a bag of quality, small breed dog food, several new toys which she loves to play with, a kennel, a "toy box", a pink bed and a new blanket.
Our "Adoption Application" is required and are now being accepted while Scrappy continues to heal from her recent spay.  Please contact us if you have any specific questions.
OK.  One more video as I've had lots of time….
---
---

We are a member of The Twin Cities Poodle Club
where you can find quality Poodles and Breeders: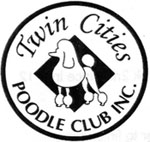 Picket Fence Poodle Rescue is also proud to be recognized by the
National Poodle Club of America: