– UPDATED: DECEMBER 2020 –

NOTICE:  Thank you for your patience during this "Historical Time".
Like many rescue groups and Humane Societies and Shelters, Picket Fence Poodle Rescue had been closed.
The quarantine time has thankfully ended and our Veterinarian was finally able to provide "elective" surgeries such as spays, neuters, dentals, etc.  So now we all try to slowly move forward while learning to be safe!
---
SAY HELLO TO "LEELU"!
This very pretty, blue, spayed Standard Poodle comes to us from a senior couple who have recently sold their home and moved.  A difficult situation as they sadly could not take their beloved LeeLu with them.
LeeLu originally had been with a northern Minnesota breeder where she had a few litters of puppies before she was "retired" and adopted.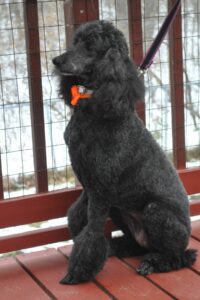 At 23″ tall and 45 pounds, LeeLu is a smaller sized Standard.  She is 9 years old (04/10/2011), extremely loving, friendly and sociable.  LeeLu tolerates our smaller Poodles, but she had been with another older Standard Poodle.  So we know she will be fine with another large, quiet dog.
This is an easy going girl who has been deeply loved and well cared for.  She wants to be with people, women as well as men, but prefers to be with a family without children.
LeeLu greatly enjoys going for walks so she can see all the "SQUIRRELS!!" that live in our neighborhood!  As with most Standard Poodles, her prey drive is strong, so we do keep a tight hold on her leash.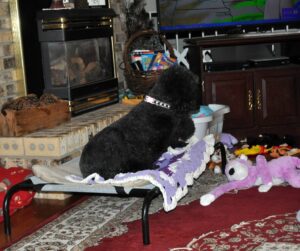 She doesn't play with toys, but will shake your hand, sit upon command, come when called, use her muzzle to nudge you into petting her and jumps up on the couch to sit (cuddle) next to you.
She is a perfect girl in our home (house trained), loves treats and especially loves to go for a ride in the car.  Open up your car door and she will jump in and sit like a queen on her throne looking out the window.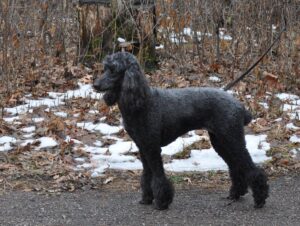 It took a few days for LeeLu to settle into our home, but this is a smart Poodle girl who did adjust to us.  She will now sleep next to our bed and occasionally will climb into bed with us.
And she now smiles!!  Looks like she's growling, but it is a smile! I've tried to get a picture of that, but she is very camera shy.
We do have all of LeeLu's Vet records from her previous owner.  She has been spayed; heartworm /Lymes tested negative, wormed, all shots are up to date, micro chipped and registered and has been Vet checked healthy by our Vet.  We just had her teeth cleaned and a few molars were removed.  Her mouth will need to be rechecked by our Vet.
***PLEASE NOTE***
*A fenced yard will be required.  Standard Poodle experience will be given priority.  You also need to be physically able to handle a large dog.
*NO small, NO aggressive or assertive dogs and NO cats. LeeLu would be fine all by herself or with an older, gentle, easy going large dog.
*NO children.
*Because of Covid-19 restrictions we will require pictures of your home, inside and outside after your adoption application has been approved. Travel and hotels are being limited, so you must live close to our central Minnesota location.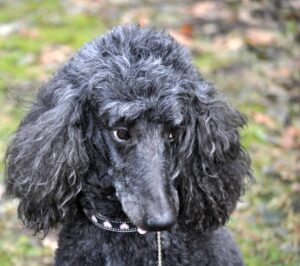 LeeLu's $400.00 adoption fee includes our $28.00 Minnesota state sales tax, her recent dental work, a bag of quality senior dog food, dog treats, her big dog bed, leash, collars, a collapsible toy box and blankets.
This is a very nice Standard Poodle girl whom Mike and I have quickly become attached to.  However LeeLu wants and needs to be with a quiet, loving family of her own where she can enjoy the rest of life.
GOT A PICTURE of LeeLu looking out our front door while telling the squirrels to GET OUT of our corn feeder for the deer…..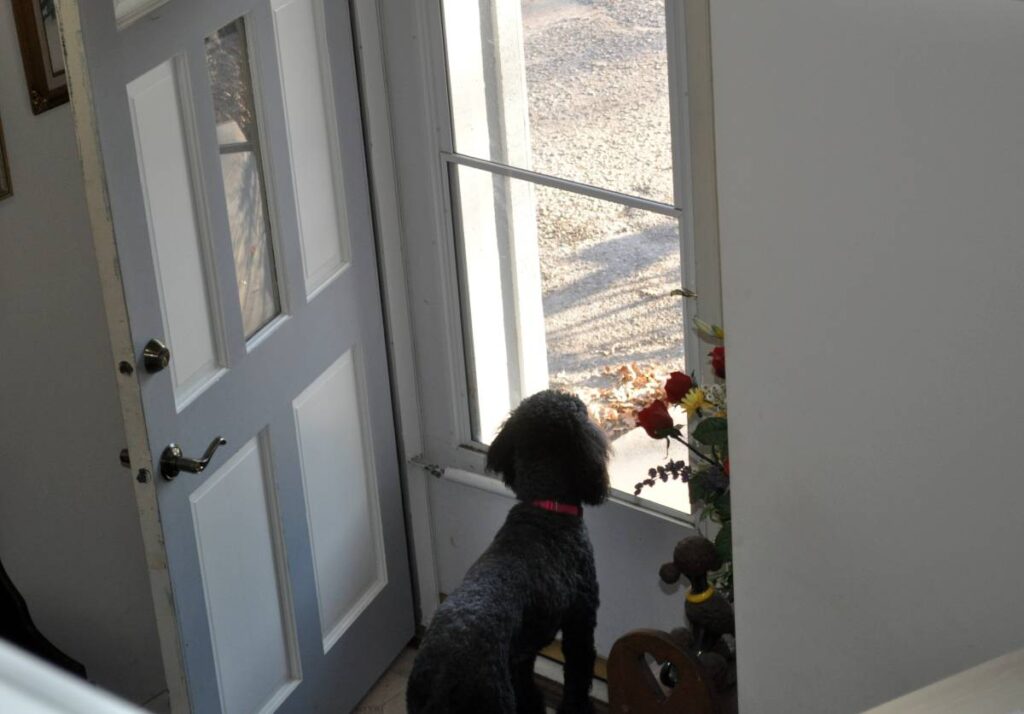 ---
---
OTHER POODLES AVAILABLE FOR ADOPTION CAN BE FOUND ON THESE WEB SITES:

We are a member of The Twin Cities Poodle Club
where you can find quality Poodles and Breeders: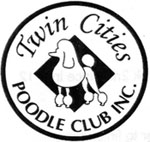 Picket Fence Poodle Rescue is also proud to be recognized by the
National Poodle Club of America: