UPDATED:  MONDAY – JUNE 18, 2018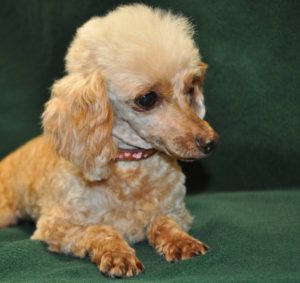 "SANDY", a tiny, red Toy Poodle who is just 5 pounds, 9 inches tall and recently turned 7 years old (born 05/01/2011) is still available for adoption.
This is a silly, fun loving, friendly, little girl who also greatly enjoys being held and carried around the house.  If I'm not carrying her, she will follow me around while wondering what I'm doing.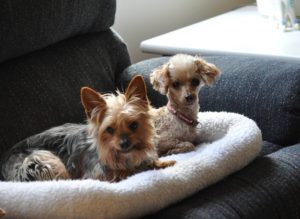 Sandy doesn't know how to play with toys, but is active, sociable little money who has quickly learned  about living in a home with people!  She loves to jump and run, yet will sit quietly on the furniture and is just perfectly fine with all of our other Poodles, including Precious, the Yorkie.
As pictured, Precious (the Yorki) was willing to share her throne with her friend, Sandy.   Both of these girls came from the same breeder.  Hmmmm… Do you think they recognize each other?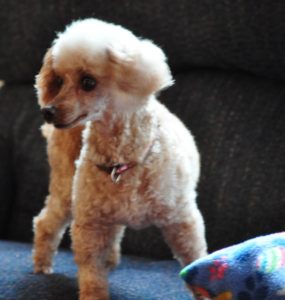 This cute little peanut knows about house training and on our routine schedule, she has been perfect in our home.  She greatly enjoys running in our large fenced yard as she has only known a kennel environment.
Sandy will walk on a leash to relieve herself ONLY if you walk very slowly and have time to reassure her.  A fenced yard or exercise pen is going to be required.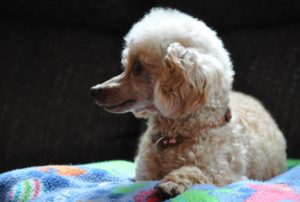 Sandy had been purchased from a southern USA breeder before arriving here in Minnesota.  No, she doesn't have a southern accent.
Once in Minnesota, she had been bred several times by her new owner, but only produced 1 litter.  Not something breeders want to deal with, so Sandy came to us in need of Vet work and a new home.
Sandy did have extensive and expensive dental work done.  However, some of the teeth were savable, so her tongue will not hang out.  She is eating a hard kibble just fine as it is a preferred dog food, more nutritious and less costly than a soft (canned) dog food.  She also just loves treats!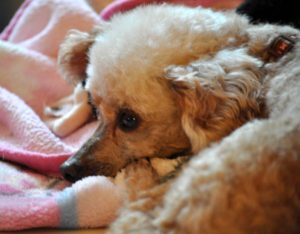 Please NO large dogs or children.  To the right family, her $400.00 adoption fee (includes the $26.00 Minnesota state sales tax), helps to pay for just some of her Vet expenses.
She has now been Vet checked HEALTHY, spayed, dental work has been done, heartworm, Lymes tested negative. shots are all up to date, wormed, Home Again micro chipped and registered.  Her AKC papers are NOT included.
Also included is her kennel, leash, collar, harness, coat, a new blanket, a bed, a bag of dog food, treats, toys, along with lots of good information to get your adoption off on the right paw forward!
---
---
---
CLICK ON THE FOUR BELOW LOGO'S TO SEE OTHER POODLES AVAILABLE FOR ADOPTION AT THESE SITES:

We are a member of The Twin Cities Poodle Club
where you can find quality Poodles and Breeders: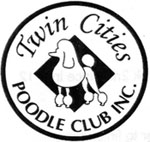 We are also proud to be recognized by the
National Poodle Club of America: